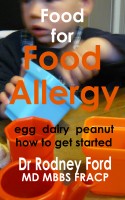 Food for Food Allergy (Egg | Dairy | Peanut): How to get started
by

Rodney Ford
Written for our food-allergy clinic families. Has your child just been diagnosed with food allergy? Get practical useful food/feeding help: What foods to avoid? What foods are safe? How to cope with your fussy feeder? Breast feed or special formula? Want easy-to-make allergen-free recipes? Need to create a fully nutritious diet that avoids: egg, milk, or peanut? "Foods for the food allergic child"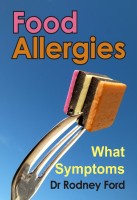 Food Allergies: What Symptoms?
by

Rodney Ford
Could food be making you ill? How can you tell? Are you troubled by: Dairy? Wheat? Gluten? Nuts? Soy? Additives? Dr Ford's 30 years experience helps you get to grips with food allergy. Unfortunately, many doctors have little knowledge of food reactions. Often, people with unexplained symptoms are told "there's nothing wrong with you." Food allergy symptoms can be diagnosed and treated. Why wait?
Related Categories