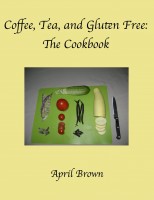 Coffee, Tea, and Gluten Free: The Cookbook
by

April Brown
Accessible comfort foods. Desserts, meats, and vegetables—baked, boiled, or grilled. Create meals to include everyone, regardless of specific food allergy. Circle allergies, label by name, remember what to avoid in each dish, for each person. Coworkers can prepare an allergy free side dish at a potluck. A cook can surprise an in-law with an allergy free meal everyone can enjoy. Recipes: 189.
Silent Warrior: A Journey of Hope
by

Shirley Oxoby
On Christmas day, 1998, Kerri Oxoby had everything going for her, until she made the snap decision to eat one bite of candy containing hazelnut extract, bringing on a life-threatening allergic reaction and a fight for her life. In this memoir, Kerri's mother recounts the story of her daughter's battle to overcome the challenges brought on by anaphylactic shock and brain injury.
Related Categories