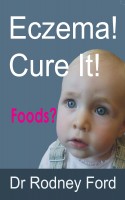 Eczema! Cure It!
by

Rodney Ford
(5.00 from 2 reviews)
Troubled by eczema? Could it be FOODS: * Why have you got it? * What's causing it? * Can you switch it off? * What's driving it? * Is it gluten? milk? or eggs? * How to protect your children? * How to identify your allergies? * What creams and potions? First, get tested. Find the problem. Then, experience healthy skin again! Already 1000s of people have been helped. ISBN 978-0-473-18579-4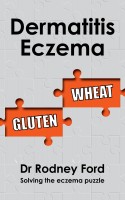 Dermatitis Eczema: Gluten Wheat – Solving the eczema puzzle
by

Rodney Ford
Skin diseases are frequently caused/triggered by wheat and gluten: gluten-eczema. The evidence for this book is derived from published medical studies, patient reports and my extensive clinical experience and research into food allergy, food intolerance, and gluten-related disorders over the last 35 years. I offer you help to solve your eczema. I hope I can help you get better at last.