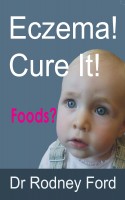 Eczema! Cure It!
by

Rodney Ford
(5.00 from 2 reviews)
Troubled by eczema? Could it be FOODS: * Why have you got it? * What's causing it? * Can you switch it off? * What's driving it? * Is it gluten? milk? or eggs? * How to protect your children? * How to identify your allergies? * What creams and potions? First, get tested. Find the problem. Then, experience healthy skin again! Already 1000s of people have been helped. ISBN 978-0-473-18579-4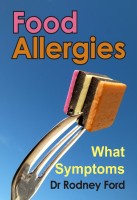 Food Allergies: What Symptoms?
by

Rodney Ford
Could food be making you ill? How can you tell? Are you troubled by: Dairy? Wheat? Gluten? Nuts? Soy? Additives? Dr Ford's 30 years experience helps you get to grips with food allergy. Unfortunately, many doctors have little knowledge of food reactions. Often, people with unexplained symptoms are told "there's nothing wrong with you." Food allergy symptoms can be diagnosed and treated. Why wait?
Related Categories