Low Back Pain Program. Effective Targeted Exercises for Long Term Pain Relief.
by

Sherwin Nicholson
(4.83 from 6 reviews)
A Comprehensive, Step by Step, Exercise, Treatment Plan for Long Term Pain Relief. Regain and Develop Mobility, Strength and Flexibility to Return to a Back Healthy Lifestyle. This fully illustrated, instructional, exercise guide, teaches 45 safe and easy exercises, movements and stretches specifically designed for relieving lower back pain. Over 170 detailed illustrations to guide you carefully.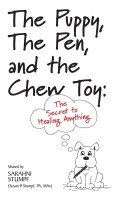 The Puppy, The Pen, and the Chewtoy (The Secret to Healing Anything)
by

Sarahni Stumpf
Sharing the ancient wisdom of the deepest causes of illness and pain, this book guides readers in learning to create the causes for success of whatever treatment they choose, how they cause the deeper causes of illness in the first place, and how to change that behavior. It teaches practical details of the natural law, "We reap what we sow," and how to live intentionally by that law.