Low Back Pain Program. Effective Targeted Exercises for Long Term Pain Relief.
by

Sherwin Nicholson
(4.83 from 6 reviews)
A Comprehensive, Step by Step, Exercise, Treatment Plan for Long Term Pain Relief. Regain and Develop Mobility, Strength and Flexibility to Return to a Back Healthy Lifestyle. This fully illustrated, instructional, exercise guide, teaches 45 safe and easy exercises, movements and stretches specifically designed for relieving lower back pain. Over 170 detailed illustrations to guide you carefully.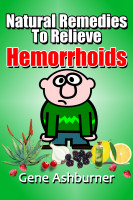 Natural Remedies To Relieve Hemorrhoids
by

Gene Ashburner
It is normal to have a hemorrhoid problem. They are very common in both men and women. Over 150 million of the living people in America today will experience some kind of hemorrhoids by the age of 50. There are many natural treatments of hemorrhoids and the symptoms that they cause. This book aims to give you natural hemorrhoid remedies and cures that really work.
Related Categories