Low Back Pain Program. Effective Targeted Exercises for Long Term Pain Relief.
by

Sherwin Nicholson
(4.83 from 6 reviews)
A Comprehensive, Step by Step, Exercise, Treatment Plan for Long Term Pain Relief. Regain and Develop Mobility, Strength and Flexibility to Return to a Back Healthy Lifestyle. This fully illustrated, instructional, exercise guide, teaches 45 safe and easy exercises, movements and stretches specifically designed for relieving lower back pain. Over 170 detailed illustrations to guide you carefully.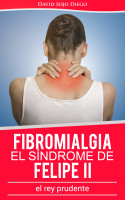 Fibromialgia: El síndrome de Felipe II (el Rey Prudente)
by

David Sojo Diego
La medicina moderna no ha entendido el funcionamiento del dolor. Una nueva corriente, con autores de la talla de Arturo Goicoechea, Lorimer Moseley, Jo Nijs o Peter O´Sullivan, está revolucionando el afrontamiento del dolor. No se trata de organismos enfermos, se trata de organismos equivocados. Aquello que debes cambiar para salir del dolor y recuperar tu vida.
Related Categories