Low Back Pain Program. Effective Targeted Exercises for Long Term Pain Relief.
by

Sherwin Nicholson
(4.83 from 6 reviews)
A Comprehensive, Step by Step, Exercise, Treatment Plan for Long Term Pain Relief. Regain and Develop Mobility, Strength and Flexibility to Return to a Back Healthy Lifestyle. This fully illustrated, instructional, exercise guide, teaches 45 safe and easy exercises, movements and stretches specifically designed for relieving lower back pain. Over 170 detailed illustrations to guide you carefully.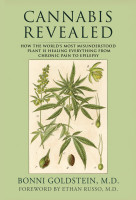 Cannabis Revealed
by

Bonni Goldstein
Cannabis Revealed is the only book by a medical cannabis specialist explaining the science behind this amazingly therapeutic plant and describing in detail the endocannabinoid system involved in most human physiologic processes. This book is an educational tool for you and your loved ones who have not found answers with conventional medicines.
Related Categories