Your Sleepless Baby The Rescue Guide
Babies are not born as good or bad sleepers, they become that way. In Your Sleepless Baby, Rowena Bennett describes medical, developmental and behavioural reasons for babies who experience broken sleep, trouble falling asleep and unusual sleeping patterns. Rowena brings many years experience as a midwife and lactation consultant.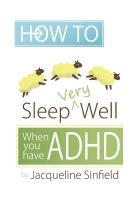 How to Sleep Well when you have ADHD
ADHD Sleeping Problems are much more common than people realize. Did you know that more than 50% of adults with ADHD have on-going sleep problems, and 27% have chronic insomnia? 'How to sleep very well when you have ADHD' Sleep Guide contains the facts you need and how to implement the actions into your life without drastic changes.