Your Sleepless Baby The Rescue Guide
by

Rowena Bennett
Babies are not born as good or bad sleepers, they become that way. In Your Sleepless Baby, Rowena Bennett describes medical, developmental and behavioural reasons for babies who experience broken sleep, trouble falling asleep and unusual sleeping patterns. Rowena brings many years experience as a midwife and lactation consultant.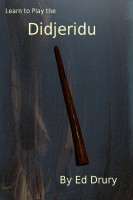 Learn to Play the Didjeridu
by

Ed Drury
(5.00 from 1 review)
Guide to playing the Australian Aboriginal instrument the didjeridu. Five lessons, chapters on meditation, story telling and sleep apnea.