Sub-categories:
General | Horseracing | Polo | All sub-categories >>
Driving | General | Horseracing | Polo | Riding | Training | << Top sub-categories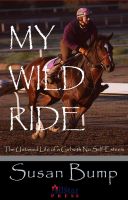 My Wild Ride: The Untamed Life of a Girl with No Self-esteem
by

Susan Bump
"I am the daughter of the town drunks in a small town in upstate New York and this is my story. Life started off well enough. In the beginning there wasn't even a hint of the chaos that would eventually swallow us all." My Wild Ride is the life story of Susan Bump, which is ultimately a story of triumph. The former California trainer overcame a severely dysfunctional family to...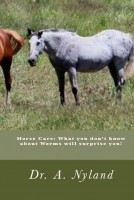 Horse Care: What you don't know about Worms will surprise you!
by

Dr A. Nyland
A clear, easy guide to horse worms and dewormers. Written in easy language for the layperson, yet heavily referenced to scientific academic journals. Today's problem worm is the small strongyle yet the majority of advice given for deworming horses is still aimed at eradicating the large strongyle. When to deworm, resistance, rotational deworming, harrowing, are all covered in this book.