Sub-categories:
General | Horseracing | Polo | All sub-categories >>
Driving | General | Horseracing | Polo | Riding | Training | << Top sub-categories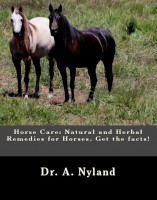 Horse Care: Natural and Herbal Remedies for Horses. Get the facts!
by

Dr A. Nyland
The need for correct information has never been more important than it is now. The rise of social media has allowed horse owners to access instant advice from many sources. This advice can be bad, wrong, and often dangerous. There is no substitute for peer-reviewed, scholarly research, as in the references in this book. Everyone has opinions, but facts are quite another matter.