Sub-categories:
General | Horseracing | Polo | All sub-categories >>
Driving | General | Horseracing | Polo | Riding | Training | << Top sub-categories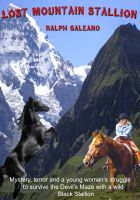 Lost Mountain Stallion
by

Ralph Galeano
(5.00 from 1 review)
Wild horses and Badlands in the Northern Rockies intertwine in a classic adventure of a young woman on the trail of stolen mares. Warned not to ride into the Devil's Maze, she enters the Badlands and becomes hopelessly lost. She is attacked by a wild stallion and falls into a gorge with no way out. A story of survival and the bond that develops between the young woman and an injured wild stallion.