Sub-categories:
British Columbia | Atlantic provinces (NB, NF, NS, & PE) | Ontario | Quebec | Nunavut, Yukon, & Northwest Territories | General | Prairie provinces (Alberta, Manitoba, & Saskatchewan)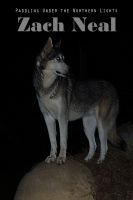 Paddling Under the Northern Lights
by

Zach Neal
Paddling under the northern lights can be a sublime experience, perhaps even surreal. Plus, the Wolves of Kioshkokwi pay a visit, and we get a look at what Zach's Algonquin Dream Expedition might look like. Short non-fiction.