Sub-categories:
All sub-categories >>
Canada | USA | << Top sub-categories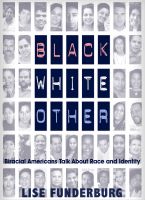 Black, White, Other: Biracial Americans Talk About Race and Identity
In this 20th anniversary edition of the landmark "Black, White, Other" (Morrow, Quill), journalist Lise Funderburg explores the lives of 46 adult children of black/white unions. Her subjects' unflinching honesty, humor, and deep feeling result in a stunning—and enduring—portrait of race in America. New foreword by novelist Mat Johnson and links to updated commentary from original participants.