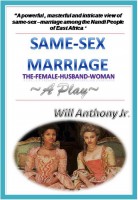 Same Sex Marriage (The Female-Husband-Woman) A Play
by

Will Anthony, Jr
Price:
$2.20 USD.
Words: 19,890. Language: English. Published: November 10, 2015. Categories:
Nonfiction
»
History
»
Africa
Same sex marriage among the Nandi only occurred between female candidates. One candidate had to be in the past child bearing age and must not have born a male child. The purpose of the union was to generate a male inheritor for the female husband woman. The process was unique as the new female husband had to forgo any form of sexual interaction. So how will the inheritor be born?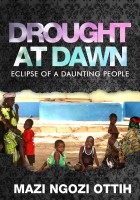 Drought at Dawn - Eclipse of a Daunting People
by

Mazi Ngozi Ottih
It's a common practice for victims of military conflicts to narrate their own experiences, but sometimes it takes outsiders to examine the problems that lead to conflicts. In doing so however, one has to consider the opinions of the victims. This book is written In memory of all who died in the military dictatorship of Ibrahim Babanjida, Sani Abacha, and Olusegun Obasanjo.