Sub-categories:
Post-Confederation (1867–) | General | Pre-Confederation (to 1867)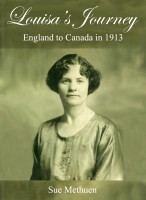 Louisa's Journey - England to Canada in 1913
Louisa's true story of emigrating from England to Canada was captured by her granddaughter for a high school history project. Her ability to rise above challenges and to stand up for what is right is truly inspirational. Her story motivates us to find the strength and courage to overcome obstacles in our way and to create a better life for ourselves.