Sub-categories:
Post-Confederation (1867–) | General | Pre-Confederation (to 1867)
Hanged Twice No Joke
This book is about Canadian and British Commonwealth history and administration of justice. There were at least two cases in which the defendants were hanged twice, Bennie Swim(m) having killed two people, and Henry Baldwin and James Lennan, having been convicted of murdering Clayton Tilton. These will be presented amongst others.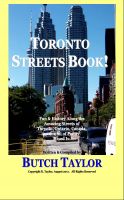 Toronto Streets Book!
De Grassi Street. Avenue Road. Bloor Street. Kipling Road. Brown's Line. Yonge Street: Take the "Toronto Streets Book!" on an informative, fun, and joyful romp along the roadways & byways of Toronto, North America's best-kept secret. With 2.7 million people, Toronto's the 5th largest North American city, following Mexico City, NYC, LA, & Chicago. Read. Enjoy. Have fun. Tell everyone!