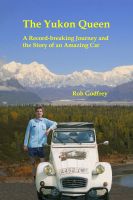 The Yukon Queen
by

Rob Godfrey
In July 1999 the good ship Marie Anne sailed from Rotterdam, bound for the USA. On board this creaking cargo ship were Rob Godfrey and two Citroen 2CVs. This voyage was the first leg of an epic journey to Prudhoe Bay, on the shores of the Arctic Ocean, a journey that took Rob Godfrey and Jose Oostveen 8000 road miles across North America.
Hanged Twice No Joke
by

David Taylor
This book is about Canadian and British Commonwealth history and administration of justice. There were at least two cases in which the defendants were hanged twice, Bennie Swim(m) having killed two people, and Henry Baldwin and James Lennan, having been convicted of murdering Clayton Tilton. These will be presented amongst others.