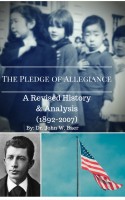 The Pledge of Allegiance: A Revised History and Analysis 1892–2007
by

Dr. John W. Baer
Written by the socialist minister Francis Bellamy, the Pledge of Allegiance was first published in The Youth's Companion National Magazine on September 8, 1892. Dr. Baer delves deep into the circumstances, characters, and controversies surrounding the Pledge, from its inception as part of a public school celebration, its role in a campaign to sell U.S. flags, its Supreme Court case, thru today.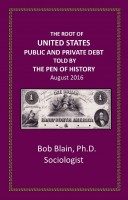 The Root of United States Public and Private Debt Told by the Pen of History
by

Bob Blain
The "pen of history" shows that the root of both public and private debt in the United States goes back to the founding of the Bank of North America in 1781. Since then, total debt grew at an average annual rate of 7.9 percent from $2.5 million in 1781 to more than $80 trillion in 2015. It is time now for Congress to begin to build a money supply based on citizenship instead of debt.
Related Categories