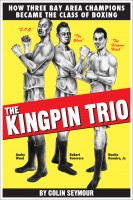 The Kingpin Trio/How Three Bay Area Champions Became the Class of Boxing
by

Colin Seymour
"The Kingpin Trio" traces the simultaneous five-year rise to superstardom of San Francisco Bay Area boxers Andre Ward, Nonito Donaire and Robert "The Ghost" Guerrero, as chronicled by veteran Bay Area reporter Colin Seymour on Examiner.com. Serious illnesses, injuries and injustices have not stopped the trio from achieving eminence unequaled in the Bay Area for nearly 100 years.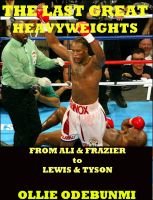 The Last Great Heavyweights-From Ali and Frazier to Lewis and Tyson
by

Ollie Odebunmi
Starting with the historical clash between Muhammad Ali and Joe Frazier in 1971, and ending with the much anticipated fight between Lennox Lewis and Mike Tyson in 2002, this book looks at the great heavyweight champions who were the standard bearers of boxing over a thirty-year period. Grab a ringside seat and relive the epic fights and rivalries of boxing's legendary heavyweight champions.