Sub-categories:
Tennis (lawn tennis) | General | Badminton | All sub-categories >>
Badminton | Court tennis (real tennis) | General | Rackets | Racquetball | Soft tennis | Squash | Squash tennis | Tennis (lawn tennis) | << Top sub-categories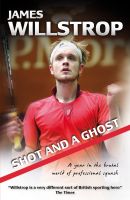 Shot and a Ghost: a year in the brutal world of professional squash
by

James Willstrop
Funny, sad and uplifting, Shot and a Ghost lifts the lid on a year in the life of James Willstrop, one of the world's top squash players. As critical of himself as of others, he talks openly about his relationship with father and coach, Malcolm; the devastating death of his mother, Lesley; and his fierce and often acrimonious rivalry with fellow Yorkshireman Nick Matthew. A must for sports fans.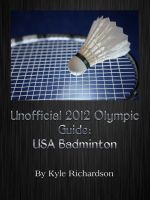 Unofficial 2012 Olympic Guides: USA Badminton
by

Kyle Richardson
This is your complete guide to Badminton at the London Summer Olympics. Learn about badminton, who is on the American Olympic team and who to expect on the podium. This guide is your complete insider look at Badminton in the 2012 London Olympics. Includes tips on how to become an Olympian!