Random Thoughts of a Stupid Man
This is my first attempt at writing a book. I have always been told I tell a pretty good story so I thought I would try to put it to print. I've been told I sometimes master making a short story long and I would like to think I can on occasion make a long story short.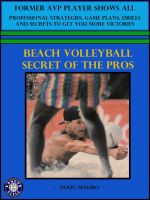 Beach Volleyball- Secret Of The Pros
Former Professional Beach Volleyball Player tells all. From beginner to professional players, this book will bring your physical and mental game up thousands of notches. The basics, strategies, game plans, and other secrets of the game of Beach Volleyball. Practiced or played with Karch, Stoklos, Adam Johnson and others . Great read and tons of information to succeed. Perfect for sand volleyball.