Sub-categories:
Pool | General | All sub-categories >>
Billiards | General | Pool | Snooker | << Top sub-categories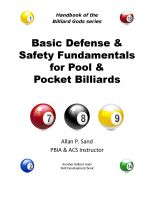 Basic Defense & Safety Fundamentals for Pool & Pocket Billiards
If you have never been introduced to the idea of using defense to win pool games, this 60 page book is exactly what you need. It covers basic safeties and how to use them to beat better players. Included are simple exercises to quickly learn cue ball speed control, plus cue ball & object ball position control.