Sub-categories:
Pool | General | All sub-categories >>
Billiards | General | Pool | Snooker | << Top sub-categories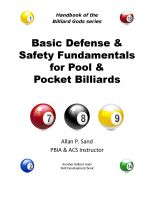 Basic Defense & Safety Fundamentals for Pool & Pocket Billiards
by

Allan P. Sand
If you have never been introduced to the idea of using defense to win pool games, this 60 page book is exactly what you need. It covers basic safeties and how to use them to beat better players. Included are simple exercises to quickly learn cue ball speed control, plus cue ball & object ball position control.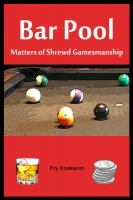 Bar Pool: Matters of Shrewd Gamesmanship
by

Fry Koskenin
Bar Pool is a book about gamesmanship, and its goal is to survey the many comical situations and fascinating subtleties that arise from playing pool in dingy dive bars. It focuses on the psychological tactics that are so successful in achieving victory within that dark arena, while hinting at their broader applications to everyday life.