Sub-categories:
Pool | General | All sub-categories >>
Billiards | General | Pool | Snooker | << Top sub-categories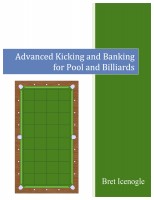 Advanced Kicking and Banking for Pool and Billiards
by

Bret Icenogle
Are you a seasoned pool player that has difficulty with kicking and banking? Build your confidence in kicking and banking by learning the similar triangle aiming system through the step by step illustrated examples in this book. Learn aiming tips and tricks to solve any kicking or banking dilemma, no matter how many rails. Reach your highest playing potential.