The Manson Family "Then and Now"
by

David Pietras
Charles Manson and other members of his so-called family were convicted of killing actress Sharon Tate and six other people during a bloody rampage in the Los Angeles area during two August nights in 1969. Since that night "Charles Manson" has become a household name. Over 40 years later we will revisit the gruesome crime scene and the carnage of that deadly night.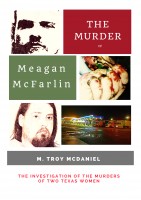 The Murder of Meagan McFarlin
by

M. Troy McDaniel
(5.00 from 3 reviews)
When the detective from Louisiana called Denise McFarlin, she knew it wasn't good. She had not heard from her daughter Meagan in a month. The body of a white female had been found beside Highway 80 in Greenwood, Louisiana. She had been beaten and stabbed to death. The woman matched Meagan's description, and worse, she was wearing Meagan's high school class ring, but just one day later...