Blood Stained
by

Dory Maust
This biography, based on David's personal confession never before seen or heard by the public, unravels a chilling yet thought-provoking true story.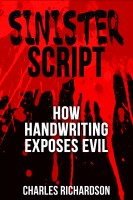 Sinister Script - How Handwriting Exposes Evil
by

Charles Richardson
Look twice the next time you look at a sample of handwriting. Your glance could save your life! At the very least your new found knowledge of handwriting analysis can help you avoid an unpleasant experience. Sinister Script will point out things to look for in the handwriting of devious people, from serial killers to con artists.
Related Categories