824
by

P J G Robbins
Charting my journey from non-runner to ultra-runner, this book follows my training from the first tentative steps, through my first marathon attempt, to a blow by blow account of the crushing lows and soaring highs of the Marathon des Sables. This memoir is an expression and an explanation of my love affair with running.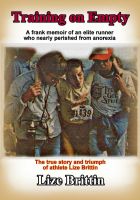 Training on Empty
by

Lize Brittin
(5.00 from 1 review)
An engaging and honest autobiography of a former elite runner who nearly perished from anorexia, one that also explores the biopsychosocial and sociological aspects of this pervasive, malignant, but ultimately surmountable disease. Brittin's comprehensive account of her tribulations combined with her background in psychology makes this a unique must-read for athletes & health professionals alike.