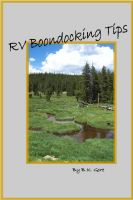 RV Boondocking Tips
by

BK Gore
(4.67 from 3 reviews)
This is a collection of all the tips I've seen, used and heard of in twenty plus years of running the rubber off of various RV's... at least all the ones I could remember. I tried to arrange 'em in a way I thought you' find usable, but then, An RVin' Cowboy Biker may juuust think a mite different than you at times! 12 chapters of tips with sections on, water, electrical,driving, pets & more.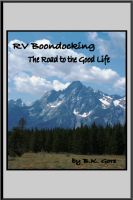 RV Boondocking - The Road to the Good Life
by

BK Gore
(3.00 from 1 review)
RV boondocking, the complete story... 19 chapters from my rv boondocking philosophy and finding good camps to work kamping and an rvers dictionary. I may not have all the answers but I have a few... and maybe some advice you can use to help find the ones I don't have! Not a big book... but a big little book! I believe it'll start you down the right road to finding shining times on the rv road!
Related Categories