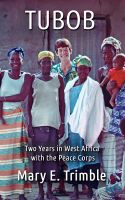 Tubob: Two Years in West Africa with the Peace Corps
by

Mary E Trimble
TUBOB: Two Years in West Africa with the Peace Corps is a memoir of a newly married couple who discover themselves in new light as they work and learn about a different culture in a third-world country. They find strength and frustration trying to make a difference. Caught up in a military coup, they seek refuge in a house with 116 other people and wonder if their lives will ever be the same.
U.S. Marines in Humanitarian Operations: On Mamba Station - U.S. Marines in West Africa, 1990 - 2003, Civil War in Liberia, Samuel Doe, Evacuation Operations, Sharp Edge, Assured Response
by

Progressive Management
This monograph tells the story of thousands of U.S. Marines who supported Operations Sharp Edge, Assured Response, Quick Response, Noble Obelisk, and Joint Task Force Liberia, the noncombatant evacuation operations in 1990, 1991, 1996, and 2003 from Liberia, in 1996 from the Central African Republic, and in 1997 from Sierra Leone.