Sub-categories:
Landmarks & monuments | Residential | Religious | Public, commercial, & industrial | General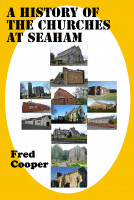 A History of the Churches at Seaham
by

Fred Cooper
Churches are, for some, central to their spiritual existence and an important part of their day-to-day life. To others, churches are places they wander into whilst on holiday to look around, to sit and meditate in the quiet and to absorb the tranquillity of the occasion. This book provides a history of the twenty four churches, past and present, that were built in Seaham.