Sub-categories:
Landmarks & monuments | Residential | Religious | Public, commercial, & industrial | General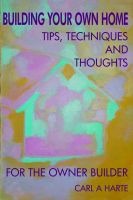 Building Your Own Home - Tips, Techniques and Thoughts for the Owner-Builder
by

Carl A Harte
A detailed, valuable resource for building an energy efficient, comfortable and "sustainable" home. Contains 23 chapters with more than 60 photos & diagrams. Some topics: Insulation, design & proportion, size & layout, construction methods, Passive Solar Design, rainwater harvesting, plumbing, sustainable heating, cooling, hot water, cooking, alternative energy, adobe, steel.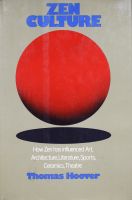 Zen Culture
by

Thomas Hoover
Random House 1977 Zen History,Haiku, Ceramics, Archery, Landscape Garden, Stone Garden, Ink Landscape Scroll, Zen Architecture, Sword, Katana, No Theater, Noh Theater, Japanese Tea Ceremony, Flower arranging, Ikebana, Zen Ceramic Art, Raku, Shino, Ryoanji-ji "Highly recommended" The Center for Asian Studies "A connoisseur" NYC-FM "Hoover provides an excellent introduction