Sub-categories:
Residential | Religious | Landmarks & monuments | General | Public, commercial, & industrial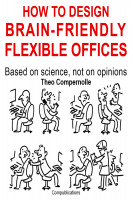 How to design brain-friendly open offices. Based on science, not on opinions
by

Theo Compernolle
Because modern zoo-directors know more about the inborn needs of their animals, than company-directors about the innate needs of people; the cages in modern zoos are better for animals, than modern offices for people. This book summarizes the basic research every manager with a responsibility for people or offices should know, to avoid ruining the intellectual productivity of the office workers.