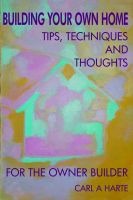 Building Your Own Home - Tips, Techniques and Thoughts for the Owner-Builder
A detailed, valuable resource for building an energy efficient, comfortable and "sustainable" home. Contains 23 chapters with more than 60 photos & diagrams. Some topics: Insulation, design & proportion, size & layout, construction methods, Passive Solar Design, rainwater harvesting, plumbing, sustainable heating, cooling, hot water, cooking, alternative energy, adobe, steel.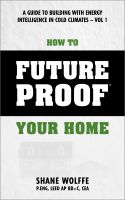 How to Future Proof Your Home: A Guide to Building with Energy Intelligence in Cold Climates
(5.00 from 1 review)
Professionally accredited author Shane Wolffe aims to show readers how to cost effectively build homes to be up to 85 percent more energy efficient, even in extreme climates. The book is based on building principles that work and were pioneered in Saskatchewan, Canada – a place with one of the most extreme climates in the world where yearly temperatures range from -40°C (-40F) to 35°C (95F).