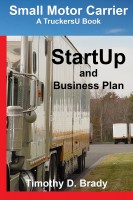 Small Motor Carrier - StartUp and Business Plan
by

Timothy D. Brady
(2.00 from 2 reviews)
Dreaming of your own trucking company? Concise and practical, this quick read provides the foundation for making your dream come true. Tips on finding a niche, writing a business plan for your banker and whether you should have partners are included. Get your future started with this introductory volume in the Small Motor Carriers series written by a quarter-century veteran trucker.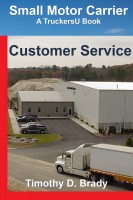 Small Motor Carriers - Customer Service
by

Timothy D. Brady
Small Motor Carriers is a series of eBooks by nationally-recognized trucking expert Tim Brady, a name well-known in trucking for comprehensive information from years of trucking business management experience. "Customer Service," book one in the series, guides you in load planning, teaching drivers better customer service techniques and working with shippers for a great outcome - every time.