Tracks and Horizons: 26 Countries on a Motorcycle
by

Carlos Caggiani
In the 60's, Carlos Caggiani traveled to 26 countries on an old motorcycle with hardly a penny to his name. He suffered famine, intense weather, was chased by the FBI, was shot at in Bolivia, and even survived a serious accident. The experiences in this book demonstrate a human being's tenacity and triumph in the face of adversity.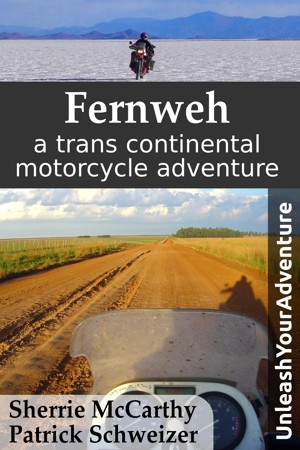 Fernweh: A Trans Continental Motorcycle Adventure
by

Sherrie McCarthy
A motorcycle adventure through Europe, Russia, Asia and South America. Take a seat in a Russian banya, a Mongolian ger, or a campfire in the deserted pampas. Ride through icy deserts, over dizzying mountain passes, through swamps and endless forests. And more important than the places, meet the people that make a motorcycle trip the most memorable adventure of a lifetime.
Related Categories