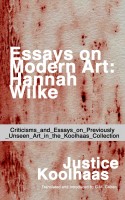 Essays on Modern Art: Hannah Wilke
by

Justice Koolhaas
Koolhaas's rich exploration of the body, blood, psychiatry and language in the work of Hannah Wilke leads to a question: should men be banned from art? This anniversary essay comes with expansive introductory material that elucidates how male hegemony suppresses women's creativity with labels such as 'narcissism', and yet retreats behind 'rationality' to manage anxieties about menstruation.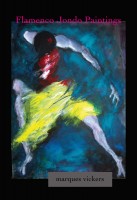 Flamenco Jondo: The Figurative Paintings of Marques Vickers
by

Marques Vickers
"Flamenco Jondo" is a fifteen-year synthesis of figurative action paintings by Northern California artist Marques Vickers. Fifty paintings paired with his short story "Beauty Strolls the Ramblas of Figueras" comprise this stunning edition of visual passion and transitional dance movements.Marques Vickers' works have been exhibited internationally.