Sub-categories:
Rugby union | Rugby league | General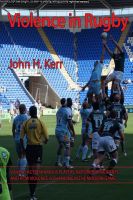 Violence in Rugby
by

John H. Kerr
(5.00 from 1 review)
This book focusses on unsanctioned violence in rugby, and describes rugby's most renowned violent deeds, profiles infamous players and chronicles the most notorious incidents. It examines violence in the past, how rugby violence is changing in the modern game and its relationship with the criminal and civil law. This is the first book to explore violence in rugby in the widest sense.