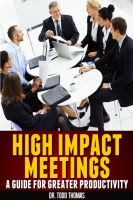 High Impact Meetings: A Guide to Greater Productivity
by

Todd Thomas
(5.00 from 1 review)
This book provides 46 immediate and proven strategies for moving your meetings from intolerable to invaluable. Whether you are conducting high-level board meetings, company offsite meetings, or the monthly gathering of your public or civic group, this book will give you the tools to increase productivity, and satisfaction, for all involved.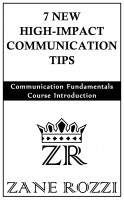 7 New High-Impact Communication Tips: Communication Fundamentals Course Introduction
by

Zane Rozzi
(4.00 from 1 review)
This short book can be read in under an hour. You'll learn 7 new high-impact communication tips you can put to use immediately. Maximize your effectiveness in your next conversation. Make the sale, get the date, win the client, and get the job. Whatever it is you need excellent communication skills for, this book has the high-impact communication tips you need to succeed.
Related Categories