David & Suzanne's Big Frickin' Canadian Motorcycle Adventure
by

David Moore
(5.00 from 1 review)
The trip began innocently enough. All they wanted was a simple, week-long vacation to celebrate their new freedom. How hard could that be? Armed with poor planning, poor judgment, laughter, love, and an optimism usually reserved for the perilously insane, our daring duo cast caution to the wind and headed straight into the heart of the deepest, darkest continent known to man: Canada.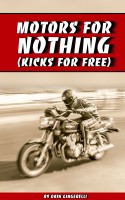 Motors For Nothing, Kicks For Free
by

Dain Gingerelli
(5.00 from 1 review)
"Motors For Nothing (Kicks For Free)" is not a typical motorcycle book. It's a non-fiction anthology by motorcycle journalist, racer and enthusiast Dain Gingerelli about the bikes he's ridden, raced, tested, and even crashed, since he took up the two-wheel sport in 1965.
Related Categories