David & Suzanne's Big Frickin' Canadian Motorcycle Adventure
(5.00 from 1 review)
The trip began innocently enough. All they wanted was a simple, week-long vacation to celebrate their new freedom. How hard could that be? Armed with poor planning, poor judgment, laughter, love, and an optimism usually reserved for the perilously insane, our daring duo cast caution to the wind and headed straight into the heart of the deepest, darkest continent known to man: Canada.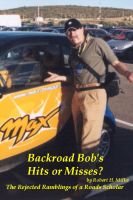 Motorcycle Road Trips (Vol 10) Hits or Misses - The Rejected Ramblings Of A Roads Scholar (SWE)
These articles span the globe - well the western world anyway. From across North America, east, west, north, and south, across the pond to the Isle of Man, and across the English Channel to Spain, Portugal, and Holland, these offerings taken as whole, are a good start to a worldwide adventure tour. Get packing!