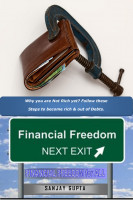 Why You Are Not Rich Yet Follow These Steps To Become Rich and Out Of Debts.
by

Sanjay Gupta
(4.33 from 3 reviews)
I am sharing my life experience & lessons that life has taught from time to time, through my book and self publishing is best way to reach great readers, like you fast and quickly. I will be highly surprised, if you implemented the concepts I shared, not able to bring any changes in your destiny, develop patience, your destiny will change in NEXT 4-5 years, as mine... Thank You!