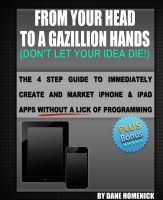 From Your Head To A Gazillion Hands
(5.00 from 1 review)
Don't let your app idea die. Your 4 step guide to immediately create and market iPhone & iPad apps without a lick of programming.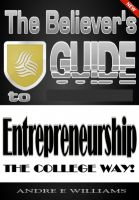 The Believer's Guide to Entreprenuership
(4.50 from 2 reviews)
"The most economical and exclusive How-to-GUIDE you will ever own to start a new business." The Believer's Guide has already seized the attention of many successful professionals who are beginning to see the results now! This guide was created to give you the resources that I have collected, tested and used for over the past decade. Just take a look at what people are saying about this book.