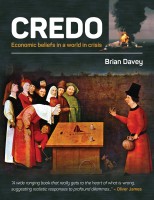 Credo – Economic beliefs in a world in crisis
by

Brian Davey
Originally part of moral philosophy, economics is a 'gospel' that human problems can be traced back to 'scarcity', with salvation in efficiency, competitive markets, specialisation, technology and growth. In the contemporary world this guiding faith in the pursuit of growth is crashing against ecological boundaries. The economic system is caught in a Catch 22.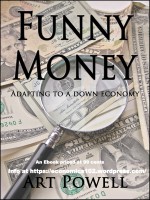 Funny Money: Adapting to a Down Economy
by

Art Powell
Economics is mostly about relationships. We have used up the most easily accessible energy and mineral resources. Our so-called "market" economy is largely based on legislation which restricts competition .We also need a universal guaranteed income scheme AND a new way of creating money. This would be a tremendous transfer of decision-making power to individuals.