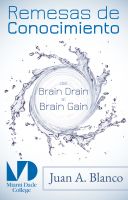 Remesas de conocimiento. Del brain drain al brain gain
by

Juan Antonio Blanco
(5.00 from 1 review)
El fenómeno migratorio se ha transformado en el contexto de la nueva civilización tecnológica digital. Hoy alcanza dimensiones muy altas (más de 215 millones de personas, el 3% de la población mundial, está fuera de sus países de origen) y ahora permite una fluida interactuación (económica, cultural y política) de los migrantes con los países de procedencia.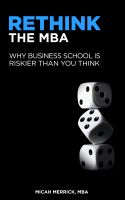 Rethink the MBA: Why Business School is Riskier Than You Think
by

Micah Merrick
(5.00 from 1 review)
My name is Micah. I graduated with an MBA from Wharton in 2009. I originally went to business school to become an entrepreneur. It was a bad decision. I believe many people decide to get an MBA for the wrong reasons, like me. If you're thinking about getting an MBA, this book is for you. I should never have gotten an MBA. Maybe you shouldn't either.
Related Categories