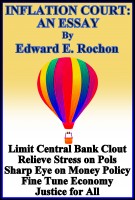 Inflation Court: An Essay
by

Edward E. Rochon
Loss of income through inflation/deflation is unfair. A legal matter is a court matter. Outlaw loss or gain of contractual obligation through inflation/deflation. The object is to nullify unfair effects of inflation when operant, making conservative objections to inflation moot, and liberal notions unnecessary in the end.
The Coming Currency Collapse and what you can do about it
by

Jerome Smith
In this unique investment survival manual the world's premier investment forecaster tells you; What is the cause of inflation, Why hyperinflation of the dollar is inevitably, How this will affect pensions and traditional investments, Which investments will survive and appreciate during this period and When and how to buy them. This could be the most important book on money that you will ever read.