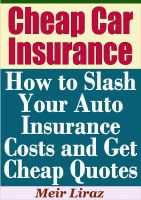 Cheap Car Insurance: How to Slash Your Auto Insurance Costs and Get Cheap Quotes
Now you can save hundreds of dollars each year on your car insurance premiums through the strategies revealed in this book. It will help you discover exactly which car insurance companies provide the best rates in your area plus tips and techniques to lower your premiums and get discounts. With this book you can shave hundreds of dollars off your current car insurance costs.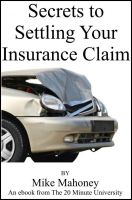 Secrets to Settling Your Insurance Claim
"Secrets to Settling Your Insurance Claim" lays out a blueprint for dealing with insurance adjusters. When your car has been damaged or you have been injured, this book takes you step by step to a fair settlement and eliminates the confusion and intimidation many people suffer in this situation. The book avoids jargon and legalese to guide people to the insurance settlement they deserve.