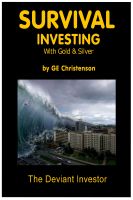 Survival Investing with Gold & Silver
(5.00 from 3 reviews)
The US government and The Fed have guaranteed price inflation through out of control spending and QE1-QE3. Inflation will destroy your purchasing power and savings unless you invest in inflation hedges, such as gold and silver. This book explains in simple terms why you need to prepare for inflation, how to prepare, and the devastation that will occur if you don't.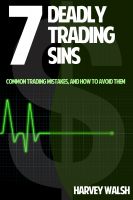 Seven Deadly Trading Sins
(4.00 from 1 review)
Best-selling trading coach Harvey Walsh uncovers the seven most common mistakes made by traders. Whether you want to trade stocks, futures, forex or options, this invaluable little book will reveal to you the errors that are keeping you from realising your full potential, and how you can overcome them.