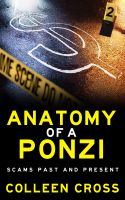 Anatomy of a Ponzi: Scams Past and Present
by

Colleen Cross
(5.00 from 1 review)
Bernard Madoff, Tom Petters and others amassed fortunes in massive Ponzi schemes, ruining unsuspecting investors, unaware their investments were connected to these criminals. The biggest Ponzi scheme of all time is about to collapse. Find out exactly where and when, and how to escape the carnage.
Stocks on the Move - Beating the Market with Hedge Fund Momentum Strategies
by

Andreas F. Clenow
(5.00 from 1 review)
Stocks on the Move outlines a rational way to invest in the markets for the long term. It will walk you through the problems of the stock markets and how to address them. It will explain how to achieve twice the return of the stock markets at considerably lower risk. All rules and all details will be explained in this book, allowing anyone to replicate the strategies and research.