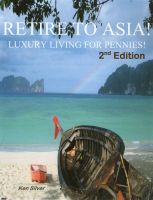 Retire To Asia
by

Ken Silver
(5.00 from 2 reviews)
Whether you want to retire to Southeast Asia, or just visit there, this book has it all. Thailand, Philippines, Vietnam, Cambodia, Malaysia, sex, good girls, bar girls, beaches, costs, medical care, your blueprint is here! Get prepared to visit "the best, last, cheapest, most welcoming places of all!" Live for pennies on the dollar, be pampered by people who appreciate you! All of Southeast Asia!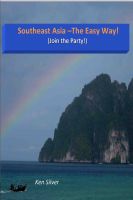 Southeast Asia -the Easy Way!
by

Ken Silver
(5.00 from 2 reviews)
Join the Southeast Asia Party! Wondering why everybody raves about traveling Southeast Asia? Thailand, Cambodia, Laos, Vietnam, Malaysia, the Philippines, and more! This is a new kind of guidebook! Get up to speed on the how why and where of fun travel in "the last best cheapest most welcoming places in the world"! Check the table of contents! Short, funny, highly informative essays all and how!
Related Categories