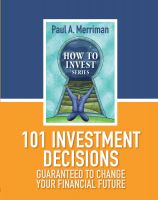 101 Investment Decisions Guaranteed to Change Your Financial Future
by

Paul Merriman
"101 Investment Decisions Guaranteed To Change Your Financial Future" is THE workbook for savvy investors at all stages of life! Learn how every investment decision you make has the potential to add $1,000, $10,000, $100,000 or more to your wealth. Together, this can mean millions of extra dollars for you and your family over the years.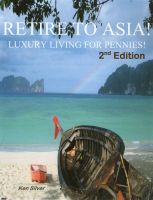 Retire To Asia
by

Ken Silver
(5.00 from 2 reviews)
Whether you want to retire to Southeast Asia, or just visit there, this book has it all. Thailand, Philippines, Vietnam, Cambodia, Malaysia, sex, good girls, bar girls, beaches, costs, medical care, your blueprint is here! Get prepared to visit "the best, last, cheapest, most welcoming places of all!" Live for pennies on the dollar, be pampered by people who appreciate you! All of Southeast Asia!
Related Categories