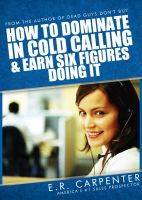 How to Dominate in Cold Calling and Earn Six Figures Doing It
by

E.R. Carpenter
You can earn $100,000 a year cold calling! What's more, you can do it without ever calling anyone at home or closing a single deal yourself. Written by a former gatekeeper turned lead generation expert who still makes up to 80 calls per day, this book will give you the skills you need to become a business-to-business cold calling expert.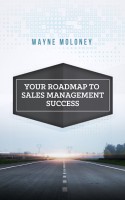 Your Roadmap to Sales Management Success
by

Wayne Moloney
(5.00 from 3 reviews)
Your Roadmap to Sales Management Success takes you on an invigorating learning journey through the 10 essential roles where high performance sales managers excel. With more than three decades of experience in sales, marketing and business development, Wayne Moloney acts as a trusted mentor guiding you to take the steps required to reap fantastic rewards from a career in sales management.
Related Categories